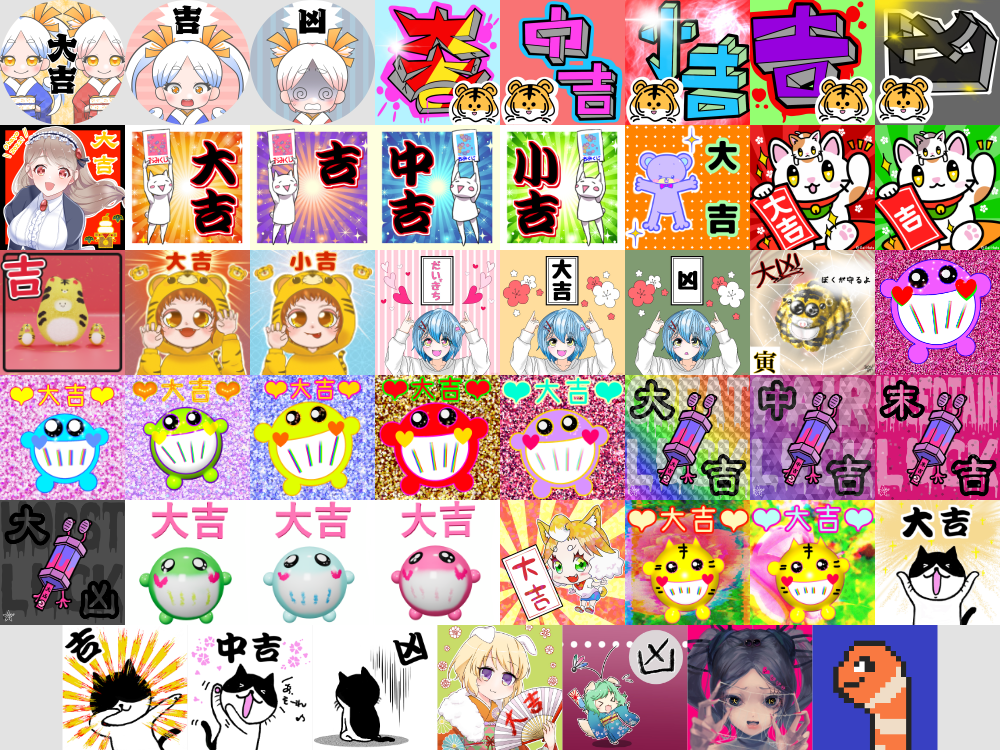 on Polygon / ERC721
Art

This is an NFT collection consisting of 47 types of picture cards created by 16 Japanese NFT artists and CryptoMaids.
I'll manually distribute "picture cards" to those who purchase items of the "fortune slip" variety.
The combination of fortune and picture cards is completely random, and you will not know where the cards will be delivered until you purchase them.
The fortunes are painted in a range from "great luck" to "great misfortune", so you can enjoy it as a light test of luck.

※ Barring any unforeseen problems, picture cards will be distributed within 24 hours of purchase. but, please note that if the "fortune slip" is sold or transferred immediately after purchase, the target of the picture card distribution will change.
※ Picture cards are delivered only once for each fortune.

URL
https://opensea.io/collection/omikuji2022
Individual artists who participated (in order of entry)
Wasshoi❤️SENo🇯🇵【わっしょい❤️せの】
🇯🇵Izuru.eth⋈東雲いづる/NFT Artist
⛩Kujira941 a.k.a riddimlife.99⛩
みらくる☆桃香🌈NFT🎨函館☆mirakuru.eth
𝙿𝚄𝙽𝙸𝙺𝙾.𝙴𝚃𝙷@ shark🦈NFT
Maneki 美 Neko
𝘾𝙖𝙩 𝙃𝙖𝙩𝙨 _ねこあたま🐈NFTartist
御膳
ナカムラマイ
Pokemaru🍣@NFT
しもふりすずめ@NFTcreator
jatpax
Clarus@Monstarz-nft.eth
MiMi kitten🐈TaisyouRomanMaids❤️
Mr.HouseBear NFT@オーダーメイド受付中🎨/NowAcceptingOffer!

Sales Period
From December 2021
Highlight
Jan. 2022 : Omikuji-POAP Distribution Campaign